1-4a.com > Freeware > Ratio Calculator

1-4a Ratio Calculator (Freeware)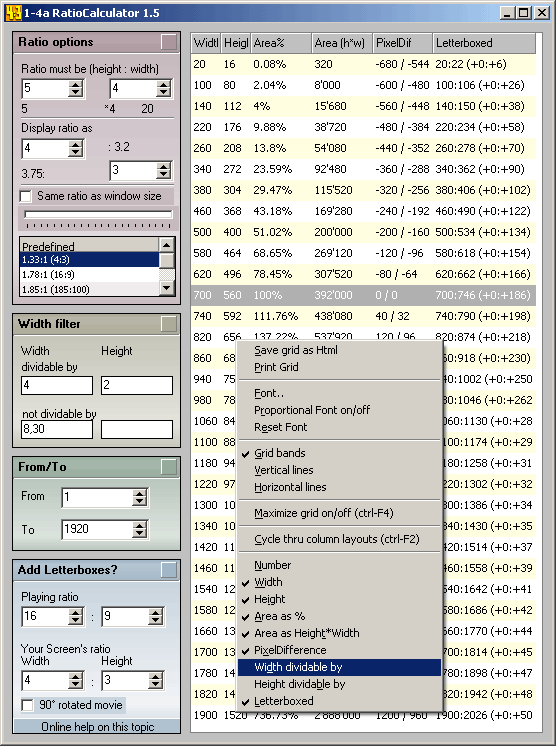 WHAT DOES 1-4a Ratio Calculator DO?
It calculates 2 numbers, where the second number is dependant on the first by a certain ratio.

It also shows some other info, like the area as % compared to the row you click on, the divisors of height and width, etc.

It is only a calculator. You cannot edit or change files with it.

WHO NEEDS THAT?
Everybody, who needs to calculate video heights/widths/areas...

I needed it to calculate legal aspect ratios, after cropping a few lines from the bottom.

You may also need it, if you want to have a certain area (say about 1 million pixels) and a certain width/height ratio and you need to find the width and height.

| | |
| --- | --- |
| FUNCTIONS | You can see every function it has in the screenshot above. |

INSTALLATION
There are no installation routines.

Simply unzip the file to any folder.

1-4a Ratio Calculator doesn't write anything to your hard disk. To uninstall it just delete the .exe file.


Use this icon to link to me


32x32
(0.6 K)
Disclaimer:
I am not responsible for whatever happens to your hardware or software or your brain if you download or use this program.